What is local SEO and how is it different from regular website SEO?
That's one of four frequently asked questions that I'm going to answer in this article to help you determine whether local SEO is a good fit for your business and get you moving in the right direction to improve your rankings
But first, we need to clarify one thing…
The Local Search Results
In the past several years, Google has overhauled their search results page to give local businesses prime real estate on their first page.
The reason is simple – Google users like you and me want to see local businesses for certain search phrases.
Here's a quick example…
If I'm out walking around and I need to find a nearby coffee shop, then I turn to Google. A search for "coffee shop nearby" on my mobile device will pull up the coffee shops within walking distance, along with useful info like their phone numbers, hours, address, and reviews.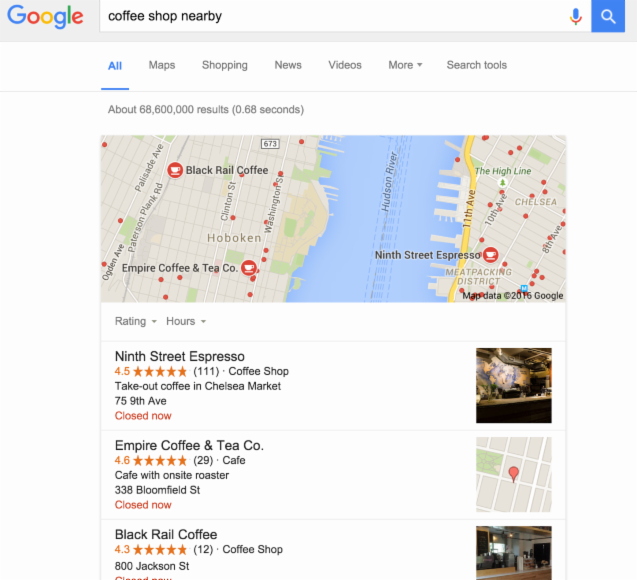 Not only does this work great for finding coffee, but it's also my preferred method for finding other businesses like restaurants, spas for my wife, dentists, and even daycare services for my daughter.
Of course, I'm not the only one searching for local businesses in Google.
According to Ed Parsons, Geospatial Technologist of Google, "about 1 in 3 of queries that people just type into a standard Google search bar are about places, they are about finding out information about locations…"
Chances are pretty good you've done this as well, which means you're at least somewhat familiar with local search engine optimization (aka local SEO). Now that we're on the same page about what we're talking about, let's dive into the FAQs…
1. What Is Local SEO & How Is It Different from Regular Website SEO?
You may not know how it works, but I'm sure you're familiar with search engine optimization (SEO). That's the process of getting your website to rank high in Google for relevant search phrases.
With local SEO, there is a slight twist. Instead of focusing exclusively on your website, you're also going to focus on your Google My Business profile page. That's because Google displays business pages (along with a map highlighting where the businesses are located) for many locally-focused search phrases.
For example, search for "dentist near me" and you'll see what I'm talking about. There will be a map in the upper right corner and the dentist names, addresses, phone numbers and reviews will be right at the top of the 1st page of Google. That information is coming from each business's Google My Business page.
So the key difference between local SEO and regular website SEO is that you need to optimize both your website and your Google My Business profile page to compete in local SEO.
2. How Do You Force Google to Display Business Results?
One of the most frustrating aspects of local SEO is the fact that Google does not always show business profile pages in the search results. So another FAQ is how do you force Google to show the map results instead of just listing webpages in the results?
Unfortunately, the answer is you can't…
If you search a relevant keyword and Google is not listing the map with business profile pages, then there is no way to force Google to show your business page. Instead, you'll need to optimize a page on your website using regular website SEO tactics.
For this reason, it's important to always double-check the Google results page for your relevant search phrases before launching a local SEO campaign. If Google is not ranking Google My Business profile pages, then local SEO is not the best approach.
3. What Types of Businesses Can Use Local SEO?
Click here to read Google's full guidelines for listing your business in Google. It should be fairly obvious that local SEO is not appropriate for 100% e-commerce businesses. That's because there is no physical location for customers to visit the store.
Think about how annoying it would be to see e-commerce businesses listed when you're searching for a nearby coffee shop. You want a place to grab a cup of coffee, not an online store to get coffee beans delivered.
The basic rule of thumb is that local SEO is a good opportunity for any business that interacts in-person with customers, clients, or patients. If you never meet in-person, then it's not a good fit.
4. How Do You Compete In Cities and Towns Outside Of Your Physical Location?
With local SEO, the location of your office or store is a big factor in the ranking algorithm. Again, think about this from the perspective of the person searching.
If I'm searching for coffee in the upper west side of Manhattan, then it doesn't help me to see businesses that are really far away. Google knows this and that's why the location of the person searching versus the actual location of the business is a big factor in local SEO.
That means you'll have an advantage ranking in Google when your prospective customers are searching near your business location. The further away the prospect is searching, the less likely you'll rank on the first page.
It's not impossible to rank in cities outside of your physical location (for example, you can create pages on your website for your target location), but you need to realize you're fighting an uphill battle with local SEO. If everything else is equal, then the business closer to the person searching is likely going to have the advantage.